Xiaomi India Twitte for Xiaomi TV Stick 4K Launched soon
Electronics
1
Thu 09 Feb 2023
Today everyone wants to buy Smart TV. While some can afford it, some have to curb their passion due to lack of money.However, now Xiaomi has taken the lead in making your dream a reality. On February 14 ie 'Valentine's Day', Xiaomi is bringing a small device to convert your ordinary TV into a smart TV.
Xiaomi will launch a new 4K TV stick on February 14. The company has tweeted about this.
In this tweet, the company said that Xiaomi's new and advanced Xiaomi TV Stick 4K will be launched on February 14, and the greatest entertainment experience will now be at the click of your fingers.
Xiaomi already has the Mi TV Stick in its portfolio. Its price is Rs 2999.
The company has not yet disclosed the exact price of this newly launched stick. However, the new Xiaomi TV Stick 4K may cost more than the previous stick.
These are the features of the new stick
Xiaomi TV Stick 4K portable design will be launched on February 14 by the Xiaomi company.
The stick will support 4K HDR streaming. Apart from this, the stick will also support Dolby Vision and Dolby Atmos.
The stick's remote has a separate button for Google Assistant.
Apart from this, the inbuilt Bluetooth remote also has dedicated buttons to access Netflix, Amazon Prime Video, Disney plus Hotstar.
Stick to Your comfortable journey with Patch Wall is important for all.
Here you can able to install 1000 plus app by Google Play Store.
This stick seamless performance with Quad Core Processor.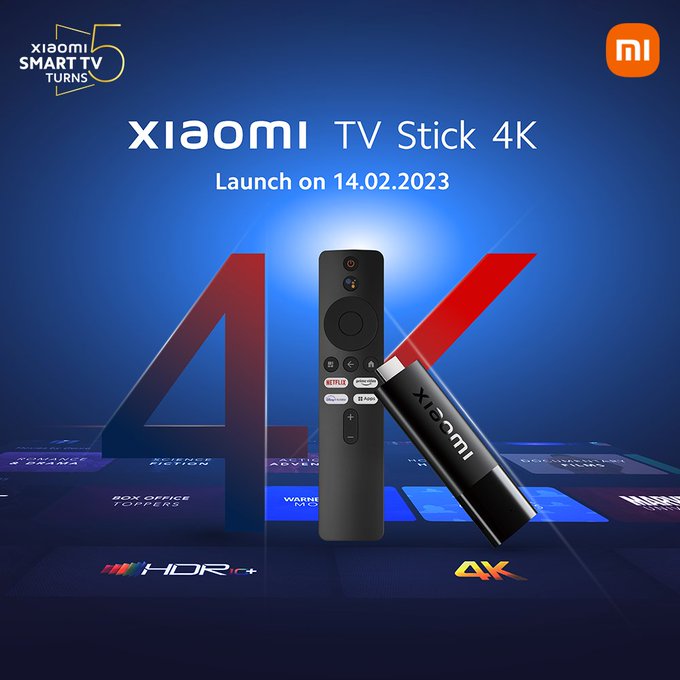 Source by Xiaomi India
--Posted By : santosh