Best Bloging Camera SONY ZV-E10L Mirrorless
Experience the world from a whole new perspective with the ZV-E10, designed to help you capture more of your surroundings effortlessly. With its versatile interchangeable lenses, the ZV-E10 allows you to capture your world in whichever way you see fit, resulting in professional-looking vlogs that truly stand out.
Unleash your creativity with the ZV-E10's array of features. Its cutting-edge image stabilization system ensures that you can shoot smooth and steady footage even while walking, allowing you to capture every moment without worrying about shaky shots. Meanwhile, the Face Priority Auto Exposure (AE) feature automatically adjusts the lighting of your face, ensuring that it remains brightly lit no matter where you go. Whether you're moving from indoors to outdoors, through light or shadow, this feature ensures that your face is always in the spotlight.
In addition, the ZV-E10 boasts a large APS-C Exmor CMOS sensor and a continuous shooting speed of 5 frames per second, making it the perfect choice for enthusiasts who demand the highest quality from their equipment.
Experience the ultimate in vlogging technology with the ZV-E10. Watch the video below to discover some of the endless creative possibilities that this camera has to offer.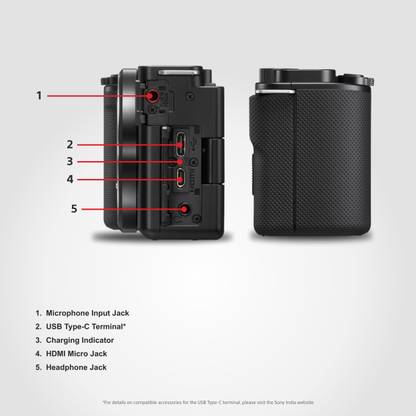 Source by Flipkart
IMPORTANT FEATURES
Experience powerful performance and user-friendly functionality with the Sony ZV-E10 Camera. This camera offers a range of lens options from Sony's extensive E-mount selection, allowing you to create exceptional and distinctive visuals for your vlog. Choose from a wide-angle lens to capture the surrounding landscape, a fixed-focal-length lens to emphasize the subject, a macro lens for close-up shots, and a telephoto lens for distant scenes.
The large APS-C-sized image sensor of the Sony ZV-E10 Camera delivers high-quality images with fine details and high resolution. The sensor maximizes light collection even in low-light conditions, producing efficient lighting and minimal noise in up to 4K movies.
Rapid control button access makes it easy to switch between still photos, regular videos, and Slow and Quick Motion modes. The camera's lightweight design and ergonomic grip ensure a secure and stable hold, while the side-opening vari-angle LCD screen allows for easy selfie clicking and vlogging from any angle.
The Sony ZV-E10 Camera features Fast Hybrid AF technology with 425 phase-detection points and up to 84% of the image area of the sensor, ensuring rapid and accurate autofocus, even for fast-moving subjects. The product showcase setting is ideal for product review videos, automatically changing the focus to the object when held up in front of the camera and returning to your face when the product is moved out of the frame.
Capture detailed visuals with the Sony ZV-E10 Camera's full-pixel readout from the sensor, producing exceptionally vivid video images. Don't miss out on the opportunity to elevate your vlog with the Sony ZV-E10 Camera.
Price -?66,490
Available - Flipkart.com
--Posted By : santosh